Illuminating shopping centers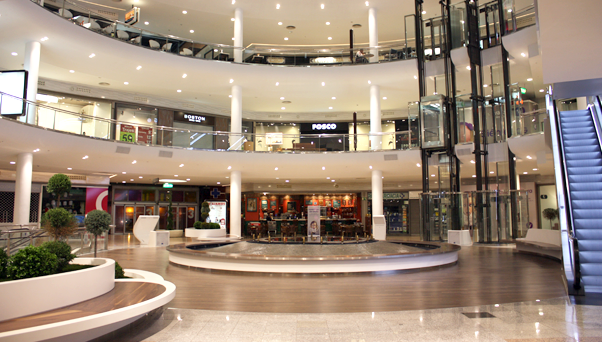 When designing the lighting project of a shopping centre you have to take into account its wide areas and the different uses that they represent. We find extensive corridors and shop windows with high or low lighting levels, leisure and food areas or resting places for the users.
It is about to adjust to commercial criteria (by integrating the centre's lighting levels with the shops), to the needs of the customers and to energy efficiency aspects. They are places with high energy consumption and a lot of working hours where the use of our lighting systems can reduce enormously the energy bill while improving the lighting performance thanks to LUXINTEC's technology and to its useful life up to 130.000 hours. They include also dimming options that allow adjusting the lighting level according to certain times of day, so we can take advantage of natural lighting to reduce even more the energetic consumption.
It is essential also to provide with a good uniformity level, as well as offering the highest visual comfort (with a glare index up to 19) and considering high chromatic reproduction index (CRI85).
Although we talk about different areas, it is vital to define the lighting project as a whole to create a consistent proposal according to lighting colours, power consumption or technology. For this, our wide range of optics XQUARE OPTICS allows a maximum adaptation to each area; for example the square patterns of 30º and 90º, or the rectangular pattern of 30º x 90º.
For all this it is indispensable to trust in the experience of companies that guarantee an optimised proposal and that comply with the expectations of the users of lighting. We invite you to contact with our Lighting Projects Department to offer you our best proposal for your needs.