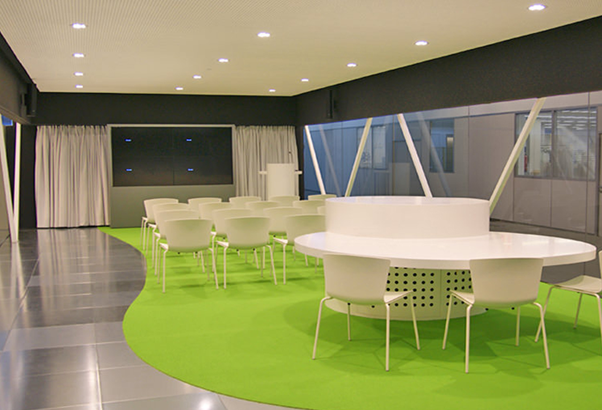 Office lighting must create a comfortable working environment that allows communicating and carrying out different activities such as computer jobs, handling documents or meetings. It is also important to achieve high energy efficiency (adapting if possible the use of day light to artifical lighting), and that products guarantee high lighting performance for the users, for example low glare or good chromatic reproduction.
To illuminate offices, characteristics from the space and its use are analized, such as its architecture, activities and visual tasks that are carried out, or communication needs between users; together with other aspects such as the economic profitabilty of the installation or the lighting norms to apply.
According to the space specifications, there are different lighting design possibilities:
– Open offices: lighting design which allows flexibility of work places situation.
– Private offices: general lighting combined with concentrated light over the tables.
– Meeting rooms: general lighting which allows creating different scenes for talks, presentations, exhibitions, etc.
– Common places and transit areas: moderate lighting level, whithout any glare.
– Other spaces according to each need: for example in archive rooms a high vertical lighting level is required.
The rule UNE-EN 12464-1 Part 1: Indoor working spaces, recommends to achieve certain lighting criteria, mainly with regards tolighting levels according to the task to be carried out, uniformity, visual comfort and colour performance of the light sources.
LUXINTEC's LED technology incorporated in our light sources and luminaires guarantees the highest lighting performance and the maintenance of the rule criteria, as well as energy savings. Our optical system XQUARE OPTICS offers very good uniformity in lighting quality and colour in the workplane thanks to the square lighting patterns, and it also provides a maximum light utilisation factor.
In addition, choosing an efficient optical system contribute a lot to energy efficiency in lighting renovation projects: for example, if you replace opal optics luminaires with luminaires with very high optical efficiency, your can reach savings around 25% of lighting power consumption, while achieving the highest lighting and glare control.